Myopia, or nearsightedness, is a common vision condition in which distant objects appear blurry while close objects appear clear. It is often first detected during children's eye exams but can also develop later in life for teenagers and adults. While the exact cause of myopia is unknown, there is evidence to suggest that genetics may play a role.
Studies have shown that myopia is more likely to occur in individuals who have a family history of the condition. In fact, research has found that if one parent has myopia, their child may be 1.5 times more likely to develop the condition. If both parents have myopia, the risk may be much higher.
Myopia can affect a person's lifetime eye health and vision. When you're affected by myopia, it is important to monitor your eyes through routine comprehensive eye exams. In some cases, the lifetime effects of myopia may be able to be prevented or reduced.
The Genetics of Myopia
Studies have shown that myopia is often inherited from parents. In fact, if one parent has myopia, their child may be 1.5 times more likely to develop myopia. If both parents have myopia, the likelihood can increase even further. This suggests that if you have myopia, it is probable that your children may also develop myopia.
In addition, research has found that certain genes may be linked to myopia. For example, a mutation in the PAX6 gene has been associated with an increased risk of myopia. This gene is responsible for the development of the eye, and a mutation in this gene can lead to abnormal eye growth. However, further research is needed to better understand the role of genetics in the development of myopia.
Myopia is a complex condition, and it is important to understand the genetic component of it. Knowing that myopia is highly genetic can help people take the necessary steps to protect their vision and the vision of their children.
Environmental Factors that Can Contribute to Myopia
While genetics can play a role in the development of myopia, environmental factors can also contribute to its onset. Some studies have shown that spending more time outdoors may reduce the risk of myopia, as well as the progression of the condition.
One reason why outdoor time may help prevent myopia is that outdoor activities provide more opportunities for your eyes to focus on distant objects and can create a defocusing effect that may reduce eye growth. However, more research is needed to confirm the reasons why outdoor time may reduce myopia risk.
Additionally, time spent looking at digital screens may also increase a child's risk of myopia. Staring at digital screens for a long time can cause eye fatigue and strain as well, leading to the development of digital eye strain and dry eyes.
Other Factors Contributing to Myopia Development
In addition to genetics and environmental factors, there are other lifestyle and health-related factors that can contribute to the development of myopia, including:
Myopia Prevention & Treatment
Myopia is very difficult to prevent because of its strong genetic risk factors. In some cases, avoiding some of the activities listed above that contribute to myopia risk may help with prevention, but in many cases, it cannot be avoided.
For individuals with mild myopia, corrective measures may be necessary to improve vision and prevent further progression of the condition. Some options for treatment include:
Prescription glasses or contact lenses that can help correct vision and reduce eye strain.
Orthokeratology, also known as ortho-k, a treatment which involves wearing special gas-permeable contact lenses overnight to reshape the cornea and improve vision during the day.
Laser eye surgery, such as LASIK or PRK, which can permanently correct vision for adults and reduce the need for glasses or contacts.
It's important to consult an eye care professional before pursuing any treatment options for myopia. We can assess your eyes and recommend the right course of action.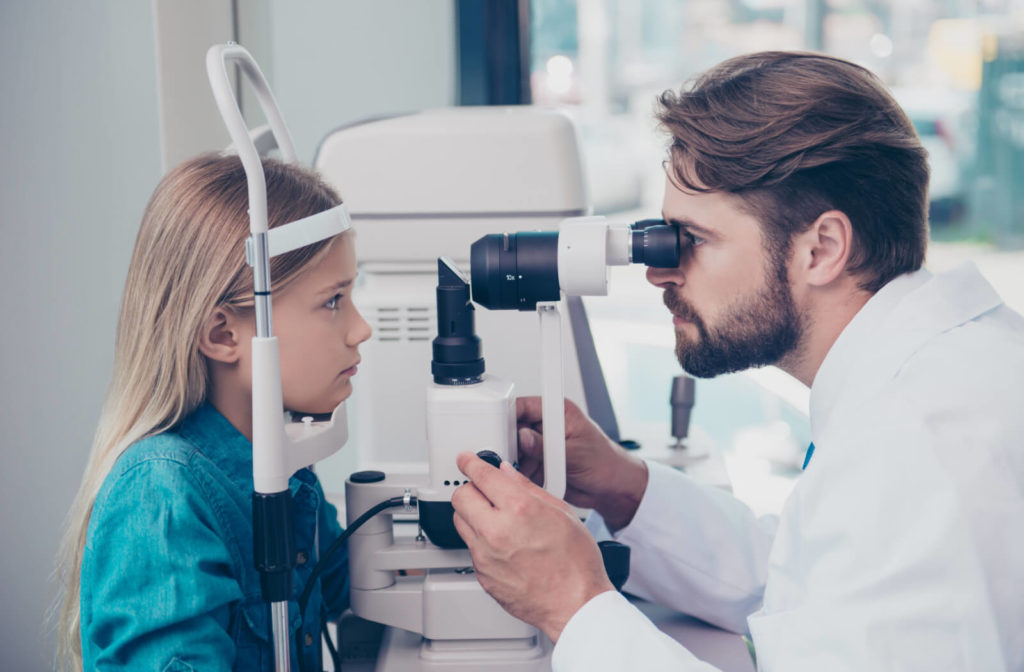 Protect Your Vision with Seal Beach Eyes Optometry
If you're concerned about the potential for myopia in your family, it's important to have your eyes checked to detect and monitor myopia progression. At Seal Beach Eyes, we can provide comprehensive eye exams to assess your vision and determine if you're at risk for myopia. We can also provide advice on how to reduce your risk of developing myopia.
Contact us today to learn more about how we can help you protect your vision.