Headaches can be an uncomfortable disruption to not only your work day, but also your personal time. There are a variety of triggers for headaches, but one common cause is prolonged screen time leading to digital eye strain. For those that experience headaches caused by digital eye strain, there are solutions available that can lessen the resulting symptoms of this condition.
While blue light glasses will not prevent headaches on their own, using these lenses may lessen the symptoms of headaches. The research on the effectiveness of blue light glasses is ongoing, but using blue light-reducing or blocking glasses, along with other remedies, may help you cope with digital eye strain.
How Does Blue Light Affect Your Eyes?
There are various forms of light that we are exposed to every day. For many of us, blue light is more frequently around us because of our devices. Blue light is emitted from computer screens, tablets, smartphones, and even the sun. Our devices often stay with us throughout the day, and we spend a large amount of time focusing on them.
All different forms of light that the human eye can detect are measured by the visible spectrum. These light measurements consist of wavelengths of light from approximately 380–700 nanometers, which is what the human eye can detect. Blue light is measured on the lower end of this spectrum. This light has a shorter wavelength at roughly 400–490 nanometers. This is in the visible light range and has a high amount of energy.
While there are many benefits of blue light exposure, early research suggests too much exposure from our digital devices could negatively affect our eyes.
Light Interaction & Headaches
One of the most common causes of headaches is overactivity of the pain-sensation structures in your head. These are known as primary headaches. Common forms of primary headaches include:
Headaches—especially migraine headaches—are often intensified or aggravated by light. Different kinds of light have varying effects on headache symptoms, but blue light appears to be a more intense aggravator for those who experience headaches.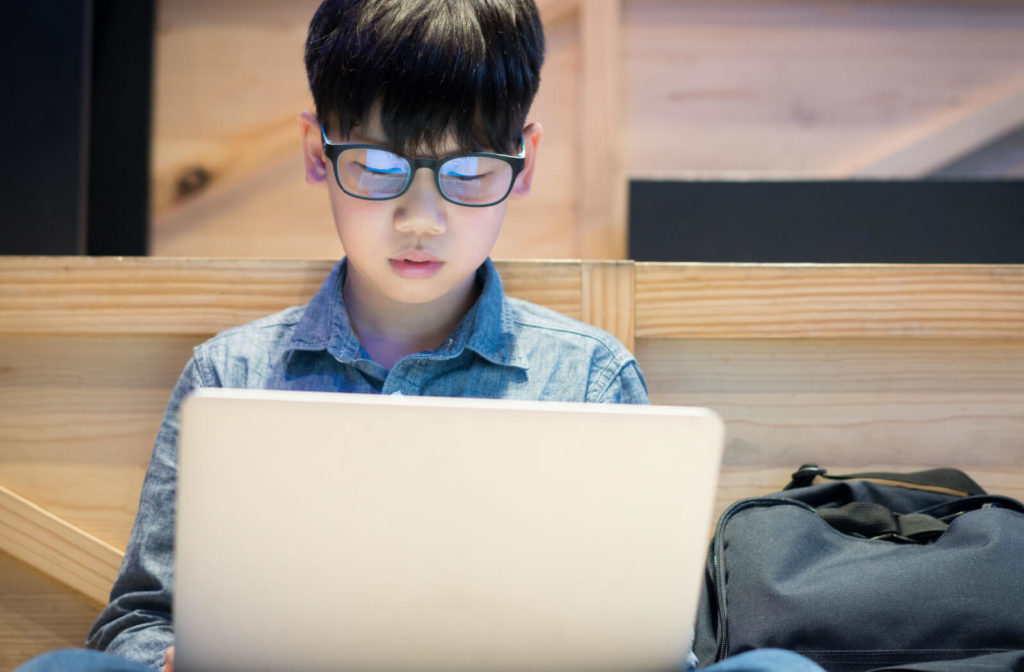 How Do Blue Light Glasses Help with Headaches?

Blue light glasses can help to reduce or block the amount of blue light that is entering your eyes. Even if you don't normally wear glasses, wearing blue light glasses while using digital devices may reduce some of the uncomfortable symptoms of digital eye strain.
These glasses are designed to filter out blue light wavelengths, which aims to minimize screen-related eye strain. Blue light lenses may also have coatings to reduce the amount of glare reflecting off the computer screen to help reduce eye strain, blurred vision, headaches, and migraines.
Are Blue Light Glasses Right for Me?
Many people need to be in front of a screen for an extended amount of time each day for work, school, or personal use. The more exposure you have to digital devices on a daily basis, the more likely you are to experience symptoms of digital eye strain. Blue light glasses may help alleviate your symptoms.
While the research on their effectiveness is not yet conclusive, wearing blue light glasses won't have any negative effects on your vision. If you experience headaches and other symptoms of digital eye strain, which can be intensified from blue light, wearing blue light glasses could be an option worth exploring.
Find the Right Glasses with Expert Help
If you experience headaches that are caused by or aggravated by digital devices, blue light glasses may help you find relief. While blue light glasses alone will not prevent headaches, they may help lessen the intensity of screen-related headaches, especially when combined with other treatments and lifestyle adjustments.
The optometrists at Seal Beach Eyes can help you determine the cause of your headaches and find out if glasses could provide some relief. Book an appointment today to learn more about blue light glasses and other specialty lenses.